This is my first week of answering HOO ARE YOU?> questions over at Night Owl Crafting (see my right sidebar in the Go Visiting section). Check the link below for all the details you need to know!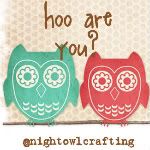 The questions this week are perfect! Fall has settled into southwest Virginia, and after a few consecutive days of grey chill weather and rain, we now have sunlight and changing foliage. This is my favourite season and one in which I feel absolute freedom to express artistic and fashion creativity.

1. List 3 words that remind you of fall.
Leaves, cider, pumpkins
2. Do you wear jewelry often?
I'm a bit of a jewelry fanatic, actually. I'm always on the lookout for interesting necklaces, earrings, and statement rings!
3. Do you like your toe nails painted or natural?
I almost always have them painted. I think the only time that I DON'T have them painted is in the dead of winter.
4. Do you ever wear a hat?
Only in cold weather. I love stylish cloches in fall and fuzzy trapper hats in winter!
5. Do you have someone that you talk to everyday on the phone?
Yes, my husband while I'm still down here in the US.