I admit that I got a tad confused as to who, exactly, were my partners in this swap. I apologize to my partners for the confusion! I'm now including buttons and details to ALL FOURTEEN wonderful bloggers, from those who I sent links to and those who sent links to me! It's a blog party!!!


If you have never heard of Swap-Bot, I definitely recommend giving them a try. You can find all kinds of nice folks and fun swaps to take part in! There are even e-swaps, which I've been having a blast with! Right now there is a great swap called I Love Your Blog, and it's coordinated by Jexyland. Here I get to check out other people's awesome blogs, and they get to check out mine! Here are my partners and coordinator!




Jex's blog is lovely! I love all the tutorials on her blog and her sweet personality in her posts. There is the cutest tutorial for a DIY pincushion and I have to try it!




Only in Cambodia is a very interesting blog full of articles, memories, and photos of The blogger's love for the country reminds me of my love for Canada =) After reading a few posts, I feel as though I've actually been to Cambodia.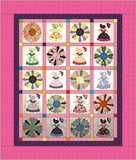 Vicki of Memories Through Quilting has a really nice blog here! I love seeing her quilts progress! Quilting is something that I would really like to get into one day, and I am inspired!



Keeping Up with the Joneses is a great blog (and VERY purple, yay!!) that shares bits and pieces of the blogger's life and what she does. Kimberly also shares giveaways as well as a GREAT booklet on scrapbooking tips, and more!

*She's Crafty She's Just my Type... By Amberingz*
Amber's blog is simply lovely! I love the whimsical chic projects she creates, including fanciful rings that I am in LOVE with! She has an Etsy shop here, go check it out. I love blogs with lots of pictures & projects and this is no exception :)




Rachel is a homeschooling mom (and I have deep respect for homeschooling parents!!) who shares the trials and triumphs of this special job as well as motherhood. She's also a crafter, hooray!!



Amber is a SAHM who loves to read! She has good book reviews on her blog as well as tidbits about her life. She's also a writer and a gamer, which get two thumbs up from me! :)




This is a fun, newer blog! Not only does it have purple in it, it has some neat projects that Cassandra has done. She also shares fascinating photos of life in general. I love the tiny pincushions she made with fabric and itty bitty coloured pails!



I love MissMuffincake! She's a vegan crafter and shares some great recipes, product reviews, and more. I can't wait to read more of her blog.



Kim's blog is full of cute!! I love the adorable plushies she makes, as well as all the fun and interesting tidbits about this vibrant redhead's life. She also posts some really cute finds & links, so don't miss out if you're a lover of all things kawaii!

* Erica Lee *
Erica's blog is a wonderful concoction of fashion and fashion advice, beauty, and inspiration. I love all of the deep posts that provoke thought and consideration in me, giving me a new perspective on relationships, life, creativity, and even my wardrobe!



Hayley's gorgeously pink blog is loaded with great giveaways, reviews, and all the bits 'n pieces of a mama bear's life.



A relatively new blog, Crea Bloempje666 is a lovely page full of creativity!! I really love the purses she's made for swaps and such, and she also has a Dutch webshop here that you just have to check out!!



This lovely blog focuses mainly on book reviews. These in-depth reviews are very helpful for those (including myself) considering a novel but unsure of whether to actually buy it or not! I love the simplistic but beautiful style of this blog.