First off, my latest winnings! I entered a Thursday giveaway at Kind Over Matter a couple weeks ago, and I won the A Year in Yes 2011 Calender from yesandyes.org!

Here's a peek at what the inside of the calender looks like.




As you can see, it's got a really cool list on the side of the page, as well as a space at the bottom to write about what you loved during the month! There's ideas written in the date boxes, plus various holidays and silly national fun days (such as National Bubblegum Day). Each month's list and image are entirely different. And amazing. The quotes on the images are concise, crisp, and inspiring without getting flowery. After this year is over, I'm going to remove the images and hang them all up on the wall so I can always see them.

So yeah, I'm in loooveeee. And I know it's mid-February, but I REALLY think that everyone needs this calender in their home! And it's only $12 right now with free worldwide shipping. So hurry up and go grab one!

I also just won Hong Ying's highly seductive novel "K: The Art of Love" at Book'd Out for the recent Follower Love Giveaway Hop. Weehee! I cannot wait to receive this novel and start reading.

And now, I'm finally participating in the HOO ARE YOU? weekly questions again! Here are my answers.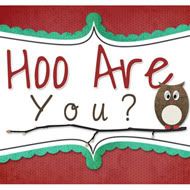 1. What did you get/give for Valentine's Day?
My husband and I aren't really that big on celebrating V-Day, not as far as gifts go anyway. We had a really nice dinner and had chocolate, though, to celebrate our first V-Day since my landing as resident.

2. Do you have a vacation planned in the next couple of months or in the summer?
It would certainly be nice! I'm hoping for a fun road trip to Montreal or the Thunder Bay area. I don't know. I'm pretty easy to please!

3. What is one thing you do to pamper yourself?
I love to give myself manicures and pedicures a few times a month. It keeps all my digits looking great, my skin soft and smooth, and it's a nice little boost of confidence.

4. What sparks your interest to other people's blogs?
I love crafty and creative people, people who are kind and make heartfelt posts, and beautiful photography.

5. What kind of a mood are you in today?
I've been in a rather mixed up, stressed out, happy mood. It's kinda all over the place.