Hello there, new followers!! I'm so glad to have you aboard. I hope you're enjoying the ride so far, even if there's not that much here at this moment in time! Please feel free to introduce yourself in the comments :D


-----------

This is the first time I've ever participated in Five Crooked Halo's Five Question Friday! Click the pic to go to her blog so you can answer the questions too and link up!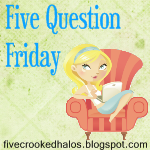 1. Have you worn the same outfit more than one day in a row?
Ew, no. Except for jeans. I don't wash them every single time I wear them unless they get something on them. I tend to wash them every couple of days.

2. If you had to choose any LARGE city to live in, which would it be?
Toronto, obviously. LOL.

I've always lived in semi-rural locations, and while I appreciated the quietness and the beauty, I'm definitely a city girl at this stage of my life. I LOVE Toronto!

3. Fly or drive with the kids on vacation?
I can't drive and neither can my husband, so I guess I'll say fly! Hopefully our future children won't be as nervous on planes as I am...

4. What is your idea of "spring cleaning"?
Oh man. I get into hardcore spring AND autumn cleaning. This includes changing out clothes for season-appropriate ones, decluttering everything, a deep cleaning, and organizing everything else.

5. What is the best book you have ever read?
So far, I've got to say it's the "Simple Abundance" daily book by Sara Ban Breathnach. For an entire year, you learn how to love yourself and find your authentic self and really let her loose, living your life fully and wonderfully. It really is life-changing!

---------
So what else is on my mind today?
I want to start writing fun product reviews again. I know there are tons of review blogs out there, and I really want to participate and offer my opinions on products I already own or have just bought. My blog is listed as PR friendly, so if I ever get an offer from a company, that will be great but I'm really not seeking them out. I DID join a campaign on
BzzAgent
and have received a couple Dove products to review, yay! I would definitely recommend joining the site if you're into receiving free products and don't mind spreading the word about it word of mouth or on your blog :D
Also, if you're looking for a fairly new forum with fun, fresh topics and fun, fresh gals with creative streaks, then look no further than
the Yes and Yes Forum
! I joined a few days ago and am now active in posting. I already love it and the girls who frequent it!
I'm stressed for time as today is my husband's 27th birthday and I'm getting everything spic and span for his party tomorrow evening! TGIF, everyone, and have a GREAT weekend full of sweetness and joy!